"Dear [neutral] language, (...)"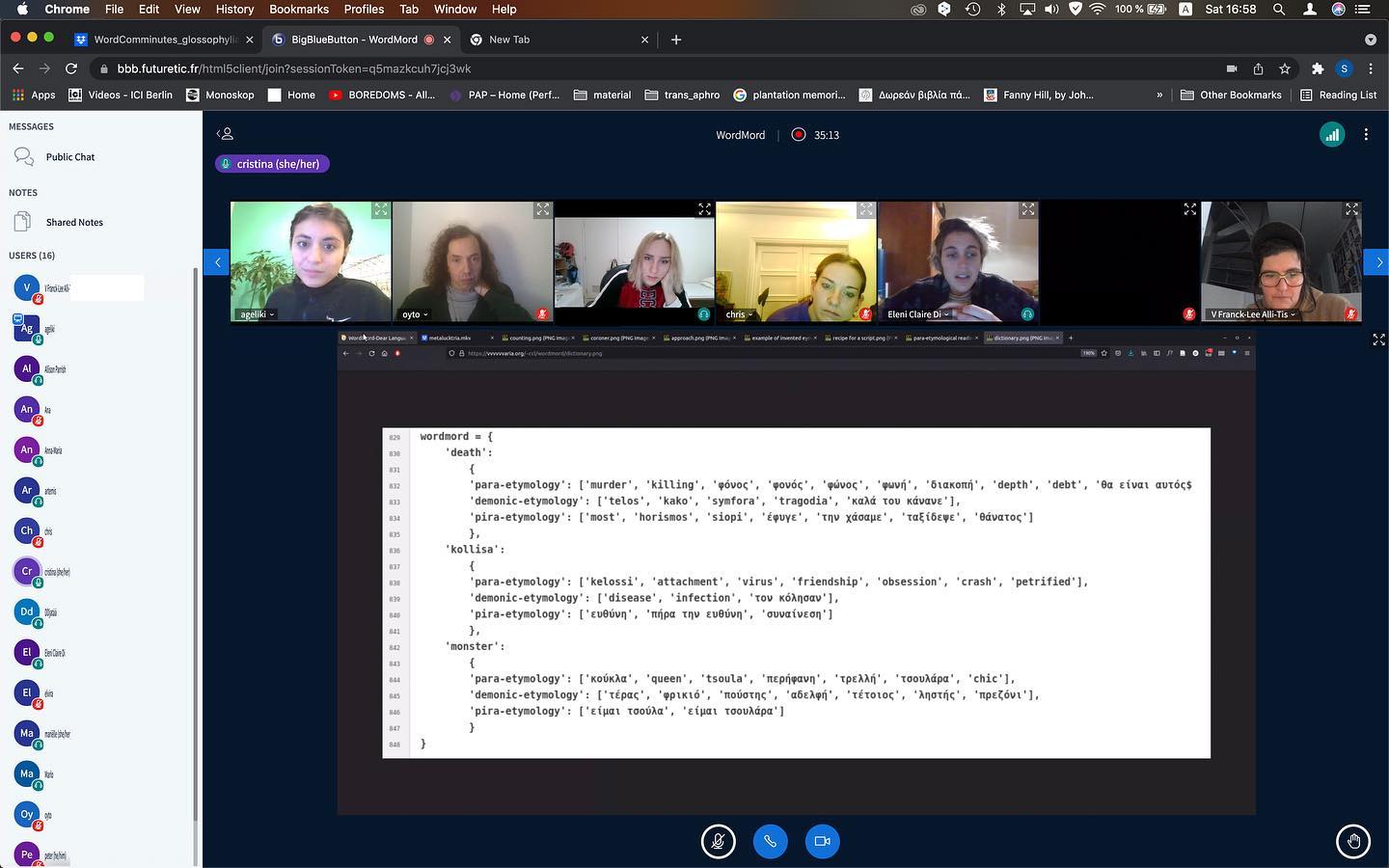 In this worksession WordMord presented their investigations of how coding can destabilise traumatic language. The group has also invited Allisson Parrish to conduct the workshop 'Creative Writing with Computers, Noise and Mulch'.
In the beginning WordMord presented and discussed questions and processes/scripts they have experimented with. They showed tools and methods towards a poetically subversive meta/para/re-writing of derogatory narratives and consequently of trauma and violence. Through coding and algorithmic processes they investigate violent words and their arbitrary use in legal and journalistic/media contexts. These linguistic decisions may reproduce a language that is unjust and repeatedly traumatizes vulnerable bodies. Focusing on specific trial cases of femicide and queericide in Greece they seek to destabilize the normative narratives by counting, investigating, observing, replacing, repeating and multiplying words. Creative Writing with Computers, Noise and Mulch.
Later in the evening we continued with the workshop by the poet and programmer Allison Parrish:
We know computers best as tools for analyzing text, composing text, and "correcting" text through grammar and spell check. But computation is an equally useful tool for pulling language apart, grinding it down, and making it unfamiliar. This workshop offers a short series of hands-on tutorials with code that facilitates destructive and defamiliarizing operations on text. The workshop culminates in a collaboratively produced online zine. No previous programming experience is required.
Allison Parrish is a computer programmer, poet, and game designer whose teaching and practice address the unusual phenomena that blossom when language and computers meet. She is an Assistant Arts Professor at NYU's Interactive Telecommunications Program. Allison was named "Best Maker of Poetry Bots" by the Village Voice in 2016, and her zine of computer-generated poems called "Compasses" received an honorary mention in the 2021 Prix Ars Electronica. Allison is the co-creator of the board game Rewordable (Clarkson Potter, 2017) and author of several books, including @Everyword: The Book (Instar, 2015) and Articulations (Counterpath, 2018). Her poetry has recently appeared in BOMB Magazine and Strange Horizons. Allison is originally from West Bountiful, Utah and currently lives in Brooklyn.
Wordmord seeks to connect art with queer feminist activism and emancipated life. Through collaborations with artists, performers, linguists, lawyers, programmers, activists and groups working with feminist algorithmic and computational practices, it shapes an online rhizomatic space as an active feminist archive. WordMord´s initial research group consists of: Vassiliea Stylianidou aka Franck-Lee Alli-Tis, Ageliki Diakrousi, Christina Karagianni, Oýto Άrognos aka Stylianos Benetos, Mounologies: Eleni Diamantouli and Anna Delimpasi. At a later stage Cristina Cochior and Manetta Berends joined the group to contribute with linguistic coding practices.