work in progress
In March 2020 Katarina Jazbec invited me to contribute to her film 'You can't automate me'.
You can't automate me is a short film, which takes place in the Port of Rotterdam, about a group of lashers, who do heavy dangerous physical work of fastening and unfastening containers on mega containerships that cannot be automated. During the night shifts, while they wait to be called on the ship, their bodies take a moment to rest and start to speak. In a dreamy sequence that follows they explore the stories their muscles, bones, ears and animals they encounter while working, have to tell us about our society. The project has been made in a collaboration with Angeliki Diakrousi. This project is supported by IFFR RTM Pitch and Gemeente Rotterdam, Mondriaan Fund and V2_ Lab for the Unstable Media (the Summer Sessions Network for Talent Development). The film will premiere in 2021 at the International Film Festival Rotterdam.
[from the website of Katarina Jazbec]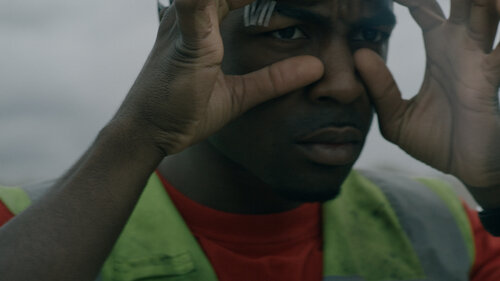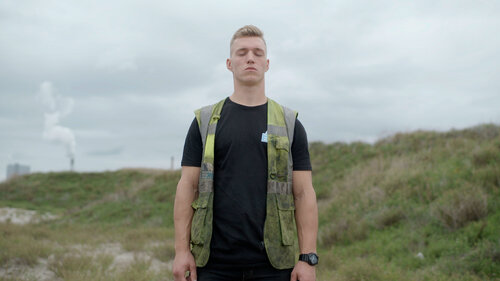 The Handbook for Eyes, Bones, Muscles, Skin and Dreams
Together we developed a series of movements that were introduced to the lashers while they were performing in the film. For that I designed a handbook that describes in detail the exercises and was given to the lashers. The exercises we have developed are inspired by different movement techniques and concepts that we have personally experienced. Practices that have a long history. Some of the dancers and practitioners that inspired us are the butoh dancers Masaki Iwana, Natsu Nakajima and Moeno Wakamatsu, the dancer and Feldenkrais practitioner Mai Tasaka and the composer Pauline Oliveros.
On Feldenkrais
The Feldenkrais Method is a type of exercise therapy devised by Israeli Moshé Feldenkrais during the mid-20th century. The method is claimed to reorganize connections between the brain and body and so improve body movement and psychological state.
On Butoh
Butoh is a form of Japanese dance theatre that encompasses a diverse range of activities, techniques and motivations for dance, performance, or movement. Following World War II, butoh arose in 1959 through collaborations between its two key founders Tatsumi Hijikata and Kazuo Ohno. The art form is known to "resist fixity" and be difficult to define.
On Deep Listening
Deep Listening, as developed by Pauline Oliveros, explores the difference between the unintentional nature of hearing and the intentional, selective nature of listening.
On Lashing Technique
This technique is developed by the lashers. We have incorporated parts of your movements in these exercises. Their experience and knowledge of the lashing technique will further inspire the exercises while practicing them.